Sunday, August 24, 2008 at 8:59PM
The hermitage stays with us, it appears, wherever we may go.
Funny to be this far away and already to be finding ourselves in another hermitage. One of my concerns – or are they already becoming observations? – is wondering how it will be to be away from our beloved mountain place in Big Sur for a year.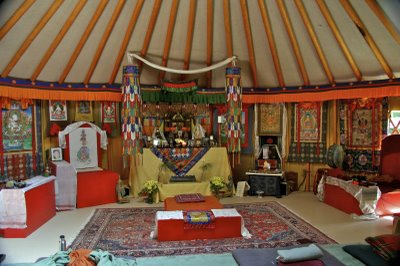 But to be here at this small Tibetan Buddhist hermitage on Denman Island -- Kunzang Samten Yangtse -- feels like not being so very far away at all. It feels like being on another side, or seeing another face, of the mountain. An island-mountain here, it is true, but along the coast of Big Sur, Pico Blanco and other mountains often rise like island-mountains in a sea of fog.
Here marshes and meadows and orchards are clearings in an island forest. A sweet arc of small dwellings curve around a yurt-temple. The forest-and-sea air is already trying to reclaim the cedar shingles, and we love how homespun and mindful of the place the human touches are. Swann and his artist wife Sudasi made the prayer wheel from an oil drum and crankshaft – and Sudasi is who painted it. A future plan is to build twelve kuti in the forest – 10' x 10' meditation huts – so that there can be winter retreats along with the current summer ones.
"This is a forest practice here," Rodney says. "I encourage each person to find his or her own place in nature for meditation. The bug crawling across your leg is part of your practice.
"'Find a pleasant grove in which to sit,' Buddha taught his followers. So our practice here isn't to sit inside in formal rows."
Rodney is Lama Rodney Devenish (Lama Karma Kunzang), the head resident Lama at the Hermitage. Rodney's wife Lisa and Debi worked together at Apple years ago, and we had visited them when they lived high in the mountains above Carmel Valley – across the Ventana wilderness from us.
The only time we could visit them here on Denman was literally during the three days when they were moving from one island home to another. Still they insisted that we come and welcomed us with energy and delight.

I nod with recognition at everything Rodney says, whether it's when he invites me to sit in on a dharma talk during a Mahamudra retreat or over dinner at the end of another full day. As a young boy on Vancouver Island, he trained with a Salish carver. He imagines Stations of the Cross along a meditation path at the hermitage and shrines to teachers from different spiritual traditions.
As we imagined this year of travel, we had said to ourselves, "to make and deepen connections." That's already well begun.

The Hermitage-Debi
Lisa asked if I would like to help cook lunch for the retreatants. For her, this is a special act of love. Chris and I came late from visiting an island artist. Lisa had already prepared an amazing meal, eggplant curry, salad, corn soup and a few other delectables that escape me. She prepared meals for Rodney, Chris, and I with the same loving care and skill. Lisa gives "soul food" a new meaning.